The Masaka Kids Africana YouTube channel has brought in $1,341,980 (about Shs5 billion) since its launch, according to a report titled The 2022 YouTube Rich List.
The report, which was shared by CashNetUSA, relied on information from SocialBlade, an American social media analytics website.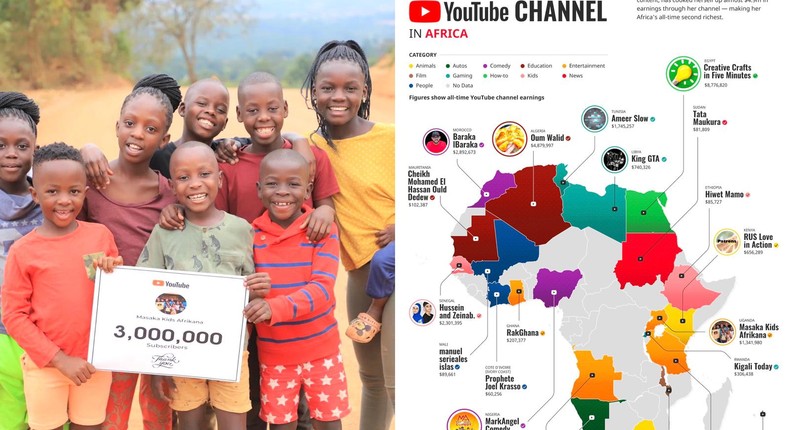 "Using SocialBlade's database of YouTube channel data, we isolated the top-earning channel in every country and an estimation of the channel's lifetime earnings. We broke down the results by region and channel type," reads the report.
According to the report, 694,000 hours of video are streamed on YouTube every minute, higher than Netflix users who stream just 452,000 hours per minute and offer feature-length movies right at their users' fingertips.
Masaka Kids are among the top-earning channels on the continent, which is led by Creative Crafts in Five Minutes, which has earned about $8.8 million.
In August 2022, the Masaka Kids Africana YouTube channel hit over three million subscribers.
It was just a year after they hit two million subscribers in August of 2021, becoming the most subscribed YouTube channel owned by a celebrity (outfit) in Uganda.
Other channels that are close in subscriber count are that of musician Eddy Kenzo, who has over two million subscribers; comedian Anne Kansiime, who has over one million subscribers; and Ugxtra Comedy, which also has over one million subscribers.
Over 200 videos have been uploaded to the channel, which was launched in April 2018.
In four years, they have racked up over 773 million views on the channel. The figures from their earnings have left many wondering where the funds go, as they believe it's not reflected in the kids' lifestyles.