The Police have arrested a taxi driver in Nansana for allegedly promoting and selling of narcotics substances (marijuana).
The taxi driver who has since been identified as Matovu Issa was arrested last Friday, 27th January, 2023.
According to Luke Owoyesigyire, the deputy police spokesperson for Kampala Metropolitan, the police were tipped off by residents in Nansana who had long been observing him.
It is alleged that the taxi driver was selling narcotics (marijuana) to boda boda men, some youth and other categories in Nansana.
Owoyesigyire said the Police are charging Matovu with unlawful possession of narcotics (marijuana).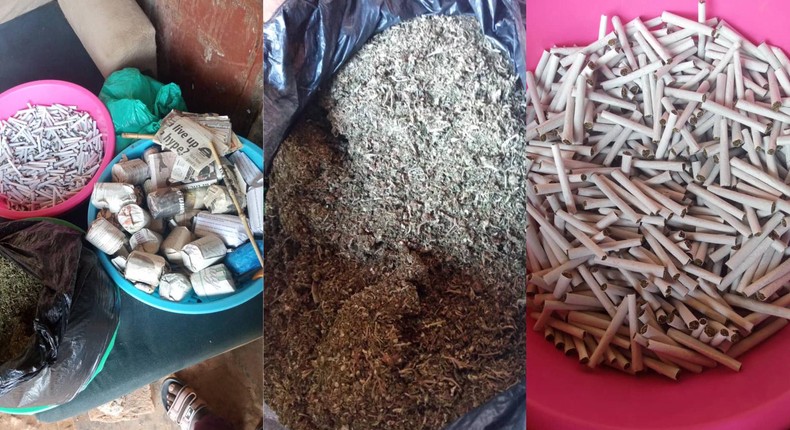 Last year, Police destroyed 145.22 kilograms of narcotics worth sh778m. The drugs were destroyed at the Police Drugs Destruction center in Nsambya barracks in the presence of the Entebbe Chief Magistrate, Juliet Nakitende.
The drugs were seized at Entebbe International Airport between 2020 and 2021. These included: 17068.01gms of heroin, 1734.34gms of morphine, 596.84gms and 355.70gms of a mixture of heroin, morphine and methamphetamine.
According to the Police Annual Crime Report 2021, 32 kilograms of narcotics were seized at Entebbe Airport in 2021.
These included: Heroin, cocaine, methamphetamine, a mixture of methamphetamine, cocaine and cannabis, also known as marijuana.
The drugs, according to Police, were mostly concealed in crafts, clothing such as curtains, lotions and jellies, cloth buttons and condoms.
The World Drug Report 2021 on cocaine seizures in Africa showed that around 11.1 tonnes or some 86% of cocaine seized in Africa were reported in West African countries.